Exploding Kittens
About Exploding Kittens
Exploding Kittens is a party game played using strategic thinking and themes of russian-roulette. Party games are often quick and simple, predominantly appealing to novice game players. The aim of Exploding Kittens is to stay alive! Players take turns drawing cards from a deck until a player draws an exploding kitten card, eliminating them from the game. The last player left who has not exploded, wins! The action each card produces which triggers certain moves and counter moves, is physically written on it so you can't forget which I really enjoyed and speeds up the game rather than having to pass around the instruction manual all the time which is impractical.
Exploding Kittens theme and mechanics were developed by Americans Elan Lee and Shane Small. The game's distinctive illustrations were created by Matthew Inman of The Oatmeal. What started out as a weekend project in 2015 has grown into a self-titled company, Exploding Kittens, which designs and produces more great party games such as Throw Throw Burrito that I really enjoy (I find it quite similar to a family favourite game of mine, 'Spoons'). Watch this sample round of Exploding Kittens below to get more of an idea of the game mechanics or see the online instructions.
Analysing the Game Play Experience
I was familiar with Exploding Kittens before I played it in the game session which impacted my experience positively. In previous times I've played, I was relatively passive because the other players were always more experienced and took the lead. However in the classroom game session, I was the most experienced player, therefore acting as a leader in dealing the cards and coaching the other players through their actions in the first round. I had never set up the game before so I made some mistakes in the first two rounds which meant we couldn't finish the game properly.
Despite having read the instructions, there were elements of the rules which did not stand out to us upon initial reading. In Round 1, I accidentally dealt too many defuse cards (which protect you from dying from the exploding kitten card) so no one was able to win. In Round 2, we realised that when we were picking up an exploding kitten card, we put it to the side rather than inserting it back into the deck which meant again, the game could not be finished correctly. The longer the game continues, the chance of picking up an exploding kitten is supposed to increase but we were doing this incorrectly.
It was quite disheartening to think we were getting the hang of it and then run into a problem but the mistakes were an important learning experience in understanding how to win. In Round 3, we finally got the hang of the set up. Once we were able to fully understand the rules, it was more relaxed and enjoyable. Moreover, strategy was able to be better employed such as learning that collecting defuse cards from other players would increase your likelihood of being the surviving player.
With 5 players we found that the deck was very small so the game only took around 5 minutes to complete but we all had a 'quick games a good game' attitude. Exploding Kittens have made expansion packs or players can appropriate agency to combine 2 decks in order to make the game bigger! Overall, despite the challenges created by making mistakes in the game set up, I really enjoyed playing Exploding Kittens.
Rhino Hero
About Rhino Hero
Rhino Hero is a German game that was first released in 2012. It was designed by Steven Strumpf and Scott Frisco and Illustrated by Thies Schwarz. Rhino Hero was predominantly designed as a children's game but I would strongly argue it can be enjoyed by all ages (specifically people from 5-99 according to the box) and is simple and quick enough that it could also be categorised as a party game. Rhino Hero and other similar games are actually featured at German supermarkets where we in Australia usually see confectionery. I think this is a really lovely idea and I might have more experience in games if I was more exposed to them in my local Woolworths. To get an idea of how to play, watch this video instruction from Haba.
The mechanics of Rhino Hero involve stacking unique roof and wall cards to construct an apartment building. Each player is initially dealt 5 roof cards. To win, you must have either played all of your cards or have the fewest roof cards left when the building topples over. I really enjoyed the intricate design of each wall card and I felt it gave the game a lot of personality.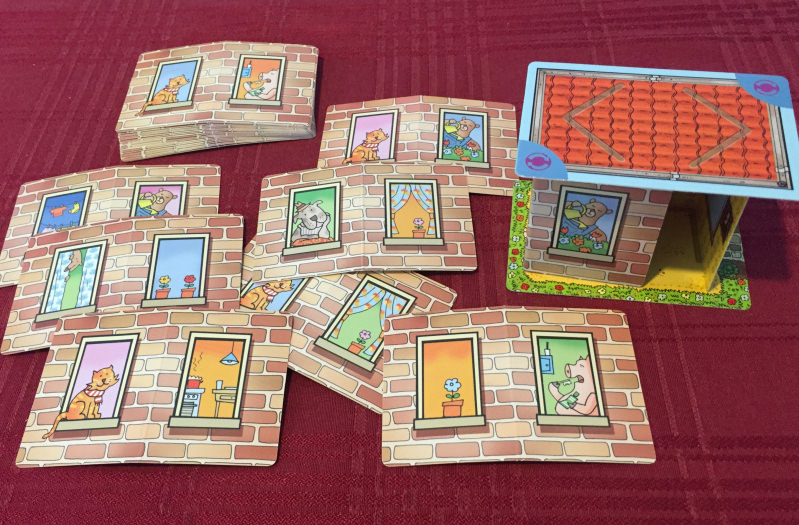 Each roof card has different actions involved which are indicated by symbols which determines how you stack the wall cards, or to move the Rhino Hero figurine up the tower which adds difficulty to the game. The concept of the game reminded me of similar games I've played like Jenga and Kerplunk which require strategy and a steady hand.
Like Exploding Kittens, Rhino Hero is defined as a 2-5 player game. After playing it myself in the game session, more people could definitely be involved through forming teams or just working as a large group to remove the Agon (contest) element of the game. Since I had taken a lead with Exploding Kittens, I took a step back in Rhino Hero which changed the nature of the way I understood the game by doing more listening rather than speaking. Although it didn't take very long for the leaders to run through the instructions, the game was pretty easy to understand just by looking at the contents of the box.
Despite Rhino Hero being supposed to have a winning player, when I played it I instantly felt that the game was more of a team sport and we were all just working together so we could get our building as high as possible. We played on quite a high table, and in hindsight we would have benefited from starting on a lower surface. At a certain point, we had to kneel on chairs to be physically capable of taking our turn, where Caillois Ilnx (Vertigo) is particularly relevant. Sicart's 'Defining Game Mechanics' discusses how despite the formal mechanics of games, players will appropriate agency within games to behave in unpredictable ways which is how many 'house rules' form and Rhino Hero was an example of this.
Exploding Kittens and Rhino Hero helped me to better understand the process of learning how to play a game. I experienced both leading a game and learning a game from scratch which has given me a deeper understanding of the relation between the "input device design and player actions" (Sicart, 2006).